Rhopoint Productoverzicht
Rhopoint instruments biedt een scala aan meetinstrumenten voor de appearance (glans, haze, DOI, Rspec, orange peel) kwaliteitscontrole van producten:
Onze producten zijn geschikt voor een breed scala van toepassingen in diverse industrieën, waaronder: de verf- en coating- , metaal-, automobiel- , kunststof-, poedercoat-, inkt- , meubel- en scheepsbouwindustrie.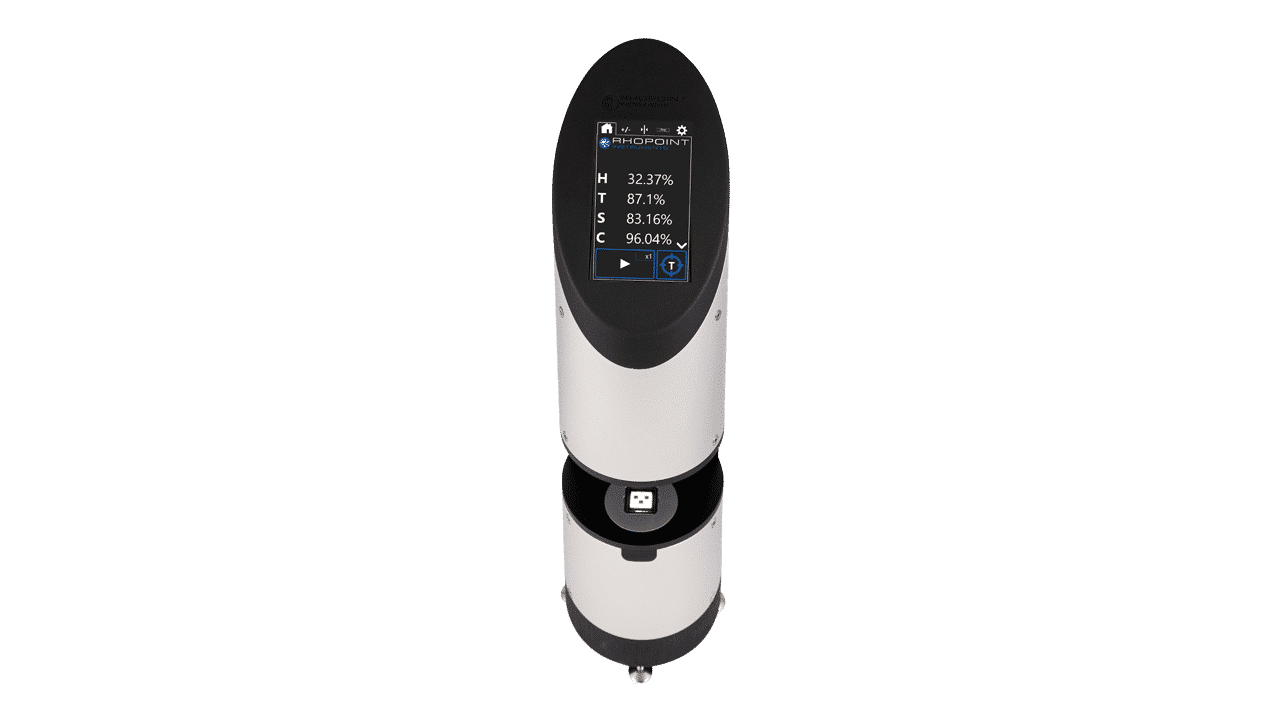 De Rhopoint ID is een instrument dat meet wat het oog kan zien. Het kwantificeert de transparantie-eigenschappen van materialen met een methode die kan worden aangepast aan praktijkomstandigheden, waarbij de resultaten in hoge mate overeenkomen met de perceptie van de klant. Het meet ook kleine monsters die niet kunnen worden gemeten met een traditionele troebelheidsmeter. De unieke Rhopoint ID-methode karakteriseert de transparantie van een materiaal volledig in één enkele meting (waas, transmissie, helderheid, scherpte). ID-metingen kunnen worden gebruikt om de transparantiekwaliteit van elk transparant materiaal te kwantificeren: plastic films, plastic platen, vloeistoffen, glas, PET-flessen en meer...
De Rhopoint IQ Flex 20 kwantificeert problemen met de oppervlaktekwaliteit, zoals sinaasappel en schil, die onzichtbaar zijn voor een standaard glansmeter, en profileert hoe licht wordt gereflecteerd door een oppervlak. Deze technologie was voorheen alleen beschikbaar voor het meten van vlakke oppervlakken, maar is nu beschikbaar in een nieuw formaat dat speciaal is ontworpen voor gebogen oppervlakken en kleine & kwetsbare onderdelen. Dit ongelooflijk geavanceerde instrument meet: 20° GLANS - HAZE - GEREFLECTEERDE BEELDKWALITEIT (RIQ) - DISTINCTNESS OF IMAGE (DOI) - RSPEC
Een revolutionair portable instrument voor het meten van glans bij 20/60/85˚, Haze, DOI (Distinctness Of Image) en RSpec met een enkele druk op de knop. Dit instrument is ideaal voor toepassingen waar het uiterlijk en de reflectie van het oppervlak worden beïnvloed door textuur.
De Novo-Gloss 20/60/85° glansmeter is ontworpen om van elk oppervlak van mat tot hoogglans de glans nauwkeurig te meten. Robuust, licht en betrouwbaar kan de glansmeter gebruikt worden op alle denkbare locaties. De hoge technische specificaties (statistische analyse, volledige grafische analyse, directe data invoer via Bluetooth naar Excel en gratis PC software) maakt de glansmeter de ideale keus voor glansmetingen ook in de best uitgeruste kwaliteitslaboratoria. De 60° meethoek is de universele meethoek voor het meten van alle soorten glans en de 20° en 85˚ meethoek geeft een hogere meetnauwkeurigheid en een betere reproduceerbaarheid voor het meten aan respectievelijk hoogglanzende en matte oppervlakken.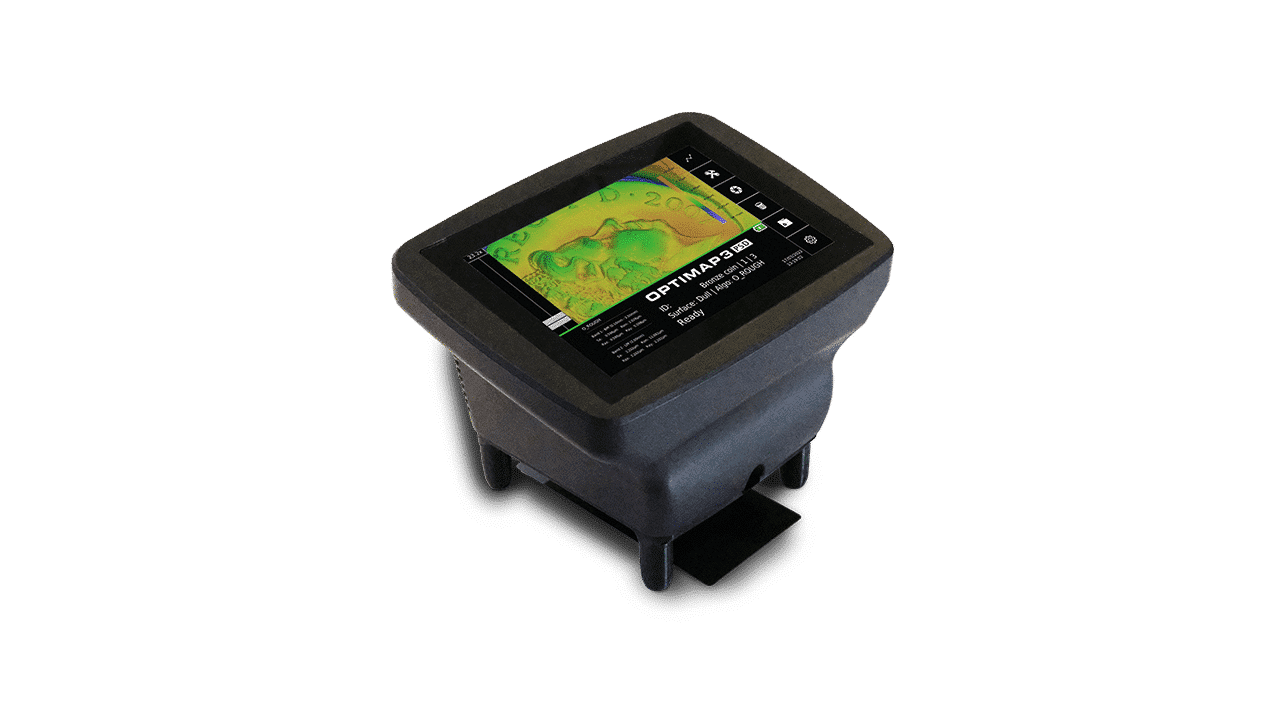 De Optimap™ brengt een revolutie in de kwaliteitscontrole van oppervlaken. Voor het eerst kan de subjectieve visuele beoordeling vervangen worden door betrouwbare representatieve metingen. De Optimap ™ is het eerste draagbare instrument dat oppervlaktestructuur in kaart brengt en vastlegt in objectieve getallen. De oppervlaktestructuur wordt gebruikt om zichtbare gebreken zoals sinaasappelhuid (orange peel), waviness en DOI problemen te kwantificeren. Het kan ook worden gebruikt om defecten als insluitsels, pinholes, lopers, zakkers, blaren enz. te identificeren. Een meting met de Optimap™ geeft de structuur van een oppervlak in ongelooflijk veel details (resolutie 75µm) weer. De afgebeelde informatie van de oppervlaktemetingen kunnen worden gebruikt om de productkwaliteit objectief te monitoren.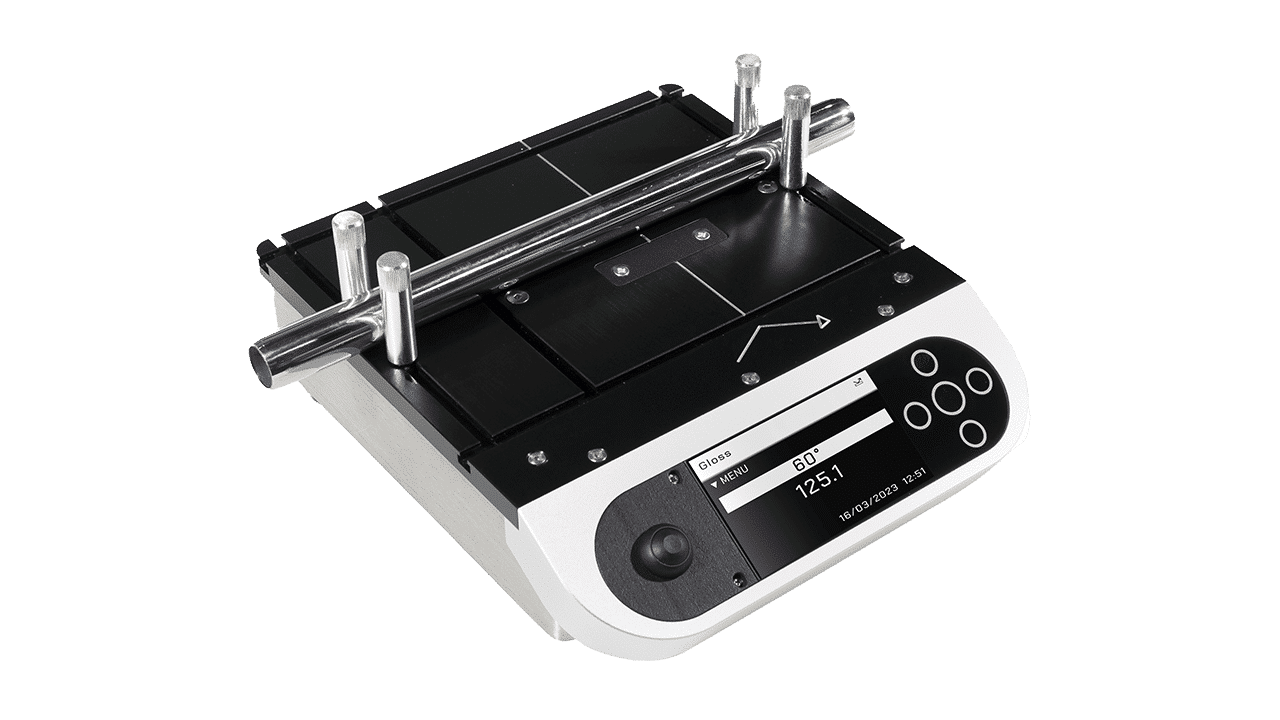 Een benchtop instrument voor het meten van glans bij 60˚. De kleine meetopening van het instrument maakt het de ideale keuze voor het meten van kleine en/of gebogen oppervlakken die niet gemeten kunnen worden met een traditionele glansmeter.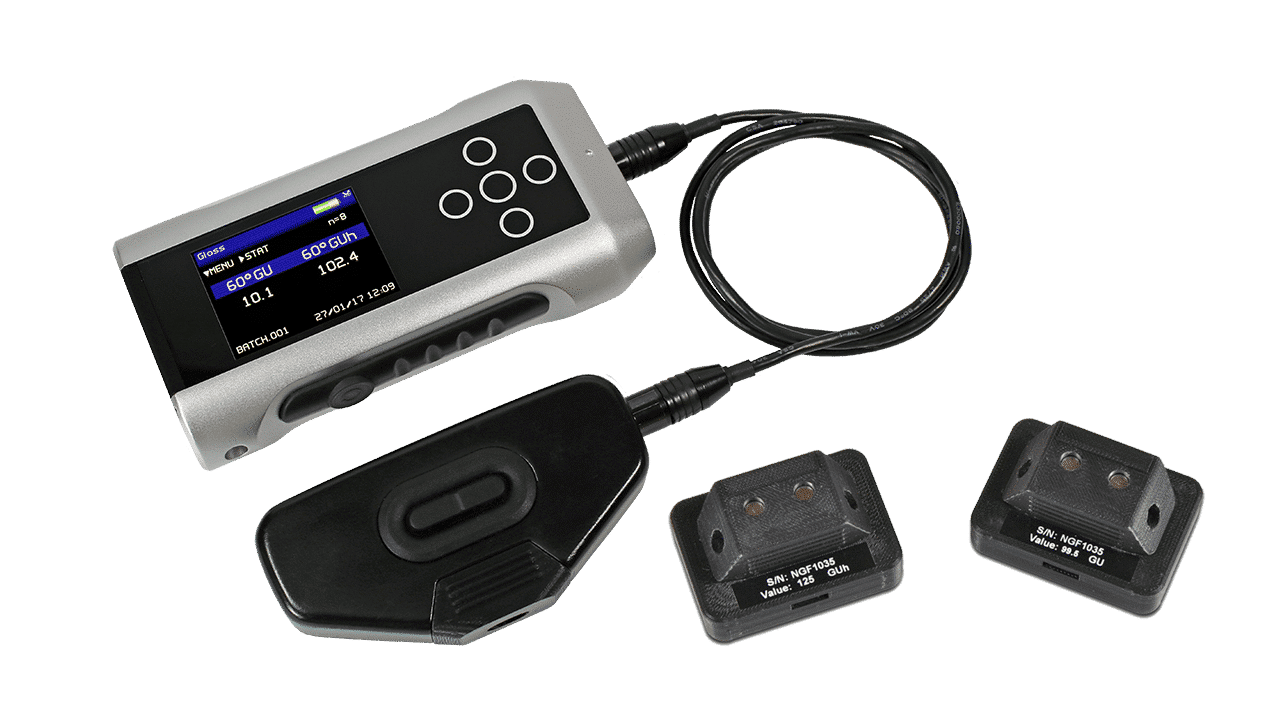 De Novo-Gloss Flex 60 glansmeter van Rhopoint is speciaal ontworpen om de glans te meten van oppervlakken die niet gemeten kunnen worden met conventionele glansmeters. De ultralichte meetkop op afstand maakt het mogelijk om oppervlakken met kromming te meten. Een extra meetschaal met 10 keer de resolutie van standaard glansmeters maakt dit instrument de perfecte keuze voor zeer laagglanzende oppervlakken. Deze hogere resolutie biedt een veel betere controle van de oppervlakteafwerking. De Novo-Gloss Flex 60 voldoet aan de ISO 2813 en ASTM D523 normen en metingen met dit instrument zijn compatibel met conventionele glansmeters die aan deze normen voldoen. De Novo-Gloss Flex 60 is speciaal ontworpen om oppervlakken met een lage glans te meten. Het beschikt over een extra meetschaal met 10 keer de standaardresolutie.
De Novo-Shade Duo+ is een 45/0° handreflectometer die kan worden gebruikt om de tint van een oppervlak te bepalen (een eenvoudige kleurindicatie op basis van helderheid/donker) of om de opaciteit van een coating, plastic film of papiermonster te berekenen. Met een meetbereik van 45/0° meet de Novo-Shade Duo+ de kleur van een oppervlak en niet de speculaire reflectie (glans).
Meet de laagste temperatuur waarbij een verf (op waterbasis), latex, emulsie of lijm een reactie aangaat en een gelijkmatige film vormt.
Al onze producten voldoen aan de belangrijkste relevante ISO, ASTM, DIN en JIS normen en worden geleverd met een garantie van twee jaar (na productregistratie). Al onze portable instrumenten worden geleverd inclusief de benodigde accessoires zoals: een calibratie tegel met herleidbaarheidscertificaat , NovoSoft-software, USB-kabel en een koffer.
Voor meer informatie kunt u contact opnemen met:
TQM Systems